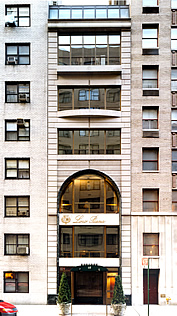 This building serves as the US headquarters for an Italian company that
manufactures fine wool fabrics, clothing and accessories. This 12,000 sf,
20 foot wide, structure incorporated an entire new facade with three additional
floors added onto an existing 4 story mansion built in 1872. The interior of the
mansion was renovated while original flooring, plaster moldings and stair
detailing was restored, and matching detailing carried through to the new floors.
The facade is composed from Indiana Limestone with bronze windows with the
central arch formed from large sections of Vermont Verde marble.

New Building